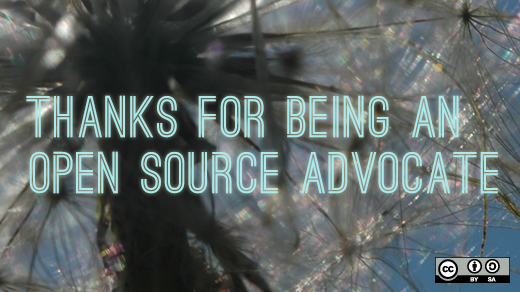 2014 has been a record year for Opensource.com. And, we couldn't have done it without you: our readers, writers, community moderators, editors, sharers, and supporters. Thank you.
Thanks for making Opensource.com a vibrant community full of amazing stories. We, the open source community, have a platform to showcase the power of the open source way and amplify the work being done on open source projects from people all over the world.
It's also that time of year when many of us start to reflect on what we've done this past year and look ahead to 2015. For the last three months, Opensource.com has garnered over 400,000 page views each month. We grew from just 300,000 page views in January of this year. And, we are approaching 4,000,000 total page views for the year of 2014. Translation: the stories from contributors, our writers, and our Community Moderators are resonating with new audiences. Our growth this year has been phenomenal.
Thank you for making this possible.
What's in store for 2015? We're looking for more stories from a wider reach of open source communities. The Opensource.com team is working to have more consistent content in the form of "series" or "columns" next year. We'd like to highlight various communities and topics on a weekly, bi-weekly, and monthly basis. We hope to expand on the work we've done in 2014 with these reoccuring features:
Top 5 video on YouTube (every Friday) and Top 5 article (every Saturday)
Open source news roundup (every Friday)
Open source and Linux games roundup (every Saturday)
OpenStack news roundup (every Monday)
In order to make this happen, we need storytellers. We realize it can be difficult to commit to writing a weekly column so that's why we're approaching this the open source way. We are looking for people to come together from open source communities to great one series, or one column, by authoring one article as part of a collection that we publish over time.
To get the ball rolling, we've begun working with the Apache Foundation to start a bi-weekly (twice a month) column of contributors from a variety of projects under the Apache umbrella. The others ideas we're exploring are:
Humanitarian free and open source software (HFOSS)
Open hardware
Easy DevOps
We're open to other open source communities and topics of interest. In fact, I'd love to see this idea expand to open source content management platforms (like Drupal, WordPress, and Joomla), open science, and programming communities (like Python, PHP, and more). For now, we're taking a crawl-walk-run approach and are excited about the possibilities.
If you'd like to get involved as a storyteller and contributor, contact the Opensource.com team and let us know what you're passionate about and how you'd like to contribute. If you are responsible for marketing or promoting your open source community don't miss this opportunity to help us coordinate and generate some great content!
Before I wrap up, one last Thank You. Again, you've helped this community reach new heights in 2014, and we're eager about the future.
Last but not least, be sure to take a moment and thank the people you know who are contributing to open source projects that matter to you. A simple Thank You goes a long way.
Jason Hibbets is a Principal Program Manager at Red Hat with the Digital Communities team. He works with the Enable Architect, Enable Sysadmin, Enterprisers Project, and Opensource.com community publications.

This work is licensed under a Creative Commons Attribution-Share Alike 4.0 International License.