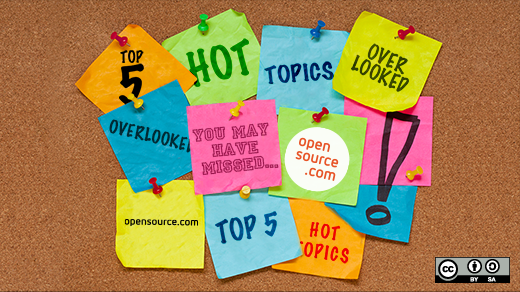 We had a steady month in October on Opensource.com bringing in 406,842 page views and 234,521 unique visits. We published 81 articles including 16 featured pieces during our All Things Open interview series and 8 featured interviews for covering the OpenStack Kilo Summit.
Highlights
It was outstanding to see that 52% of the content published was contributed from the open source community. That's two months in a row with over 50%.
For the tenth month in a row, the top article was "Top 5 open source project management tools in 2014," written by one of our community moderators. It continues to get steady search traffic and was the most visited page on the site with almost 44,000 page views.
Rankings
Our "What is open source?" page maintained the #1 position in organic search results and generated 17,937 page views, steady month-over-month.
The "What is OpenStack" landing page hit an all-time record receiving 8,681 views. The search rank for the "OpenStack" on Google in steady at the #3 position in organic results.
The Opensource.com Community Moderators were in Raleigh, NC for our annual, in-person meeting. They also attended the All Things Open conference, for which Opensource.com is a partner and media sponsor. Our Community Moderators continue to be engaged volunteers and contributed 24 articles this month (30% of our published content) as well of lots of great social media support.
Editor's pick 6
This was another tough month to make the editor's picks with so many great articles published in October. Here are six posts definitely worth adding to your open source reading list, and if I missed one, add it to the comments and tell us why you liked it so much.
Top 10 articles published in October 2014
Honorable mention
Top 10 articles overall in October 2014
Stats
Opensource.com homepage: 28,231 page views (last month: 29,343 page views)
What is open source? resource page: 17,937 page views (last month: 17,850 page views)
What is OpenStack? resource page: 8,681 page views (last month: 7,877 page views)
Articles published: 81
What do you get out of this report? Tell us in the comments.
Jason Hibbets is a Principal Program Manager at Red Hat with the Digital Communities team. He works with the Enable Architect, Enable Sysadmin, Enterprisers Project, and Opensource.com community publications.

This work is licensed under a Creative Commons Attribution-Share Alike 4.0 International License.