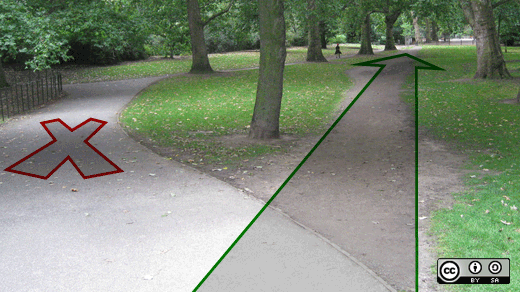 The first half of CityCamp Kansas City was productive, collaborative, and eye-opening. The morning was overflowing with open source knowledge, the sharing of ideas, and expert talks. The event started with 14 lighting talks–a ton of information crammed into a five-minute talk.
More than 150 attendees learned about the Google Fiber initiative, spatial city mapping, SeeClickFix, Bike Walk KC, Open Missouri, and much more. Then I got to share the open source stories from Raleigh, NC in my presentation, "How open source is changing citizen engagement." [PDF] Based on the initial feedback from a few folks, it was inspiring and "sparked the individual/collective imagination."
My story was about a journey—a journey I call the path to the open source city.
I started by sharing my experience with interviewing former Raleigh mayor, Charles Meeker, about open government. Although this journey started before Raleigh's claim as the world's first open source city, it's a good starting point.
After that article was posted, it activated ideas from people within my network. The result? Several citizens, including myself, committed to the first CityCamp Raleigh. That started a citizen movement in Raleigh and a thirst for open government. CityCamp has been a catalyst in making change happen in Raleigh, and the path to the open source city started to take shape.
The organizers kept the drumbeat going through a series of meet-ups. We also started to collect the different open source pieces of our culture that had been there all along but were so obvious to us that it didn't click.
A great example is an event called SPARKcon that leverages an open source planning process. It taps into the creative community and lets them highlight their talents. The planners of the individual SPARKS are using open source and probably don't even know it.
I shared how SeeClickFix has empowered community members to fix their neighborhoods and report non-emergency issues to the city. Citizens are helping fix broken things that concern them, and it's helping our government achieve efficiencies on the back-end.
With the announcement from Red Hat to relocate their global headquarters to downtown Raleigh, the City of Raleigh was stepping up their committment to open source.
An event called Innovate Raleigh gathered more than 170 business leaders from the Research Triangle region to discuss partnerships, an innovation center, funding, and branding.
In February 2012, the City of Raleigh passed an open government directive, creating an equal playing field for open source software and committing to an open data catalog.
One of my favorite open source stories is Walk [Your City]. The concept is simple: post directional signs that indicate how far it is to walk to certain landmarks, parks, and other places. But take that one step further–open source the project to enable any city around the world to replicate this idea.
Another project CityCamp influenced was Triangle Wiki. Based on the open source project LocalWiki, it's getting average citizens to contribute their knowledge to an online, hyperlocal Wikipedia. The reason it worked out so well is lead organizer Reid Serozi found his tribe. He found a group of civic-minded people who shared a similar passion. Sound familiar? It's how most successful open source projects get started and last a long time.
More recently, the City of Raleigh has successfully launched a service called MyRaleigh Subscriptions powered by Gov Delivery. It's helping citizens manage the communications they want to received from the city.
Following that, the City of Raleigh recently allocated $50,000 for an open data portal. It's the first time in more than 10 years that the city council has told the city manager to reserve funding for a particular project.
All this was made possible or influenced by the open government movement in Raleigh. The one common thread throughout all this has been CityCamp and the people involved in it.
What are the components of an open source city? There are several important factors:
Creating a hub of open source companies
Attracting major open source conferences and continuing to support the many open source-focused user groups
Amplfying the culture of open source that already exists
Advancing the open government movement
The most exciting part of this journey is to be able to come to places like Kansas City and share these great stories. It's a great way to highlight how the individual events are part of a larger initiaive.
More importantly, I get to show the power of open source and how it's changing the world. Take an idea, build on it, make it better, and share it. That's the open source way.
Thanks to Leslie Scott for the on-the-fly edit.
Jason Hibbets is a Community Director at Red Hat with the Digital Communities team. He works with the Enable Architect, Enable Sysadmin, Enterprisers Project, and Opensource.com community publications.

This work is licensed under a Creative Commons Attribution-Share Alike 3.0 Unported License.