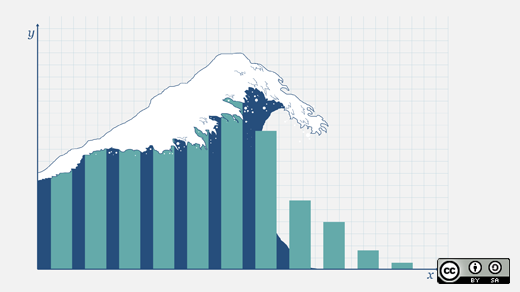 Every week, I tally the numbers and listen to the buzz to bring you the best of last week's open source news and stories on Opensource.com.
Top 5 articles of the week
#5. Trying out WordPress 4.0 on OpenStack
Jason Baker shares with us his experience of getting the new WordPress 4.0 up and running on an OpenStack instance. Wordpress 4.0, called "Benny," was officially released yesterday—but it was a few days ago that Jason used the TryStack site to test out the release candidate version. In this step-by-step, see how Jason launches a virtual machine, connects his OpenStack instance to the outside world, and creates a WordPress database. Give it a try!
#4. The next open source frontier is the farm
Michael Tiemann brings us a story about the plight of what big agriculture is doing to farm lands, and to our food. What can open source can do about it? Tiemann first explains that, "industrial agriculture evolved around the assumption that total uniformity was the key to efficiency." But, "what if large-scale processes could tolerate medium-scale diversity, restoring the benefits of ecological diversity to improve farm health?" One open source answer that has come about so far is FarmBot, a universal agricultural tool based on 3D printing technologies that can make crops economically feasible that were not feasible before, automating tasks that are too labor-intensive for humans to do. But on a small scale, allowing for diversity where large-scale farming cannot.
#3. Top 4 open source invoicing tools for freelancers and small businesses
Scott Nesbitt reviews these four open source invoicing tools that are great choices for freelancers and small businesses on a tight budget: Simple Invoices, Invoice Ninja, siwapp, and Open Source Billing. Scott also gives readers tips on what to look for in an invoicing tool.
#2. Can this free software company secure the future of Linux for the city of Munich?
Georg Greve, founder and CEO of Kolab systems, addresses the concerns of city of Munich officials over a Linux distribution government workers have been using called LiMux. Georg points out that LiMux is not to blame for their problems with the calendar and email systems, and that going back to Windows would be an unneccessary step to take. Georg tells us, and we're hoping the city of Munich is listening, that the newest release of Kolab 3.3 alleviates these issues and is the fix everyone is looking for.
#1. Bringing new security features to Docker
Dan Walsh has been working on container technology for several years and runs the Red Hat Enterprise Linux Docker enablement team. He also works closely with SELinux and frequently writes on topics of security for Opensource.com. In this second part of a series on Docker and security, Dan addresses the misconception that "containers contain" and walks readers through what security measure should be taken to protect the host from the processes within the container and to also protect containers from each other."
Check the weekly Top 5 video out on YouTube and subscribe to see it weekly:
Jen leads a team of community managers for the Digital Communities team at Red Hat. She lives in Raleigh with her husband and daughters, June and Jewel.

This work is licensed under a Creative Commons Attribution-Share Alike 4.0 International License.