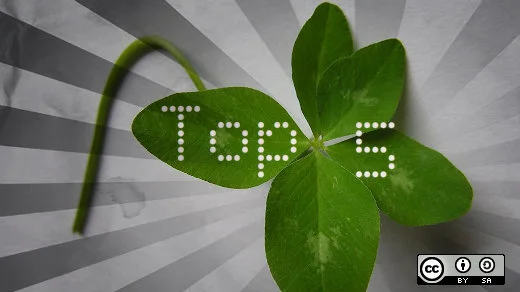 The Opensource.com Weekly Top 5
The best and brightest burning star articles from this week: January 26 - 30
#5. The earnestness of being important
Two words: Big data. It's a big deal right now, but how do we distill it down to what data is most important? Grant Ingersoll is a long-standing committer on the Apache Lucene and Solr open source projects, among other things, and he writes about how we can best determine what data we need to focus on to satisfy our users needs.
#4. Confessions of a systems librarian
Opensource.com highlighted stories from people who work for an open source company or or use open source tools to get work done in their jobs this week. All of our eight articles on the subject are illuminating and we hope helpful to anyone looking for how to get into open source or what kinds of options there might be out there. Robin Isard is one such person using open source tools on the job; he is a systems librarian at Algoma University where he works primarily with open source technologies such as Evergreen and Drupal as well as working on the George Whalley Project.
#3. 30 community managers in open source to follow on Twitter
Monday was Community Manager Appreciation Day. So, Opensource.com Editor and Community Manager Jason Hibbets compiled a list of 30 community managers in open source you should follow on Twitter. It's a pretty sweet list, representing lots of great talent and cool projects. Check it out.
#2. How open source can be a gateway to your next job
Tarus Balog, a great open source thinker and businessman, starts off his latest article for Opensource.com's Careers theme with: "Getting a college degree is usually a good idea. It tells employers that you can stick with something for several years and see it through to completion, but it doesn't really tell them what you can do." So how can you get across to a potential employer what you can do? Get involved with an open source project. Jump in, get your feet wet, and then put it on your resume. Find out more from Tarus in this article.
#1. Why now is the time to learn R
R is an open source software platform for statistical data analysis, and Revolution Analytics is one of many organizations harnessing it's power. You may have heard the news this week that Microsoft acquired Revolution Analytics "to help more companies use the power of R and data science to unlock big data insights with advanced analytics." In this article, David Smith, the Chief Community Officer at Revolution Analytics and head of their open source solutions group, tells us about the trending job of data science and why that means now is the time to learn more about R.
Jen leads a team of community managers for the Digital Communities team at Red Hat. She lives in Raleigh with her husband and daughters, June and Jewel.

This work is licensed under a Creative Commons Attribution-Share Alike 4.0 International License.