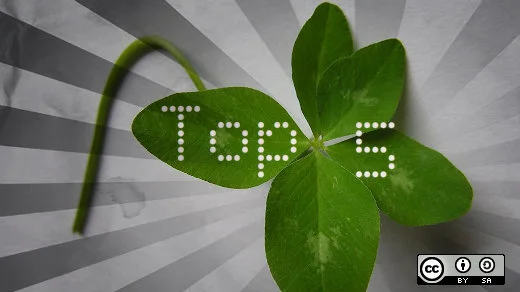 Welcome to the Opensource.com Weekly Top 5!
This week we celebrated St. Paddy's Day with seven open source developers you should know and kicked off our Open Source in Education series. Join us for this roundup of the best articles from the past week on Opensource.com.
Our video and article for the Top 5 comes out every Friday afternoon. Subscribe to our YouTube channel to never miss a video!
Top 5 articles of the week
https://opensource.com/life/15/3/st-paddys-day-7-irish-open-source-deve…
On Tuesday this week, we celebrated St. Paddy's Day with a roundup of seven open source developers you should know. Check out our list by Rikki Endsley and Dave Neary, and if you have someone to tell us about, we'd love to hear about them on Twitter.
https://opensource.com/education/15/3/uberstudent-linux-education
This week marked the start of our series on Open Source in Education, and Joshua Allen Holm's introduction and tutorial on UberStudent was a hit. UberStudent is a customized Linux distribution designed for secondary and post-secondary education, so this is a great read for any student, teacher, or education administrator interested in alternatives. This guide will show you how to understand, install, and navigate UberStudent.
https://opensource.com/business/15/3/preparing-for-disasters-like-a-waf…
Did you know Waffle House restaurants are a model for disaster recovery? Well they are, and people are noticing. But, why are we talking about that here at Opensource.com? Well, having a disaster recovery plan is important for all businesses, tech included. In this article, writer Brian Proffitt says it's something everyone knows they should do it but rarely does. Get some great pointers for your open source project, group, or business in this easy-to-digest read.
https://opensource.com/business/15/3/docker-security-future
Dan Walsh brings us a technical article about the new Docker security features his team at Red Hat are working on to make the statement, containers do not contain, less true. So, beyond the valuable information that Dan shares on user namesspaces, container separation modes, and the administration of containers—what you can take away from this article is that Red Hat and Docker are making progress on making containers more secure. And, that's a very good thing.
https://opensource.com/life/15/2/music-light-show-with-raspberry-pi
In this fun tutorial, Anderson Silva shows us how to use a Raspberry Pi board and open source project called LightshowPi (available online) to create a musical light show. See his Dancing Christmas tree video and more instructions for the project in this article.
Jen leads a team of community managers for the Digital Communities team at Red Hat. She lives in Raleigh with her husband and daughters, June and Jewel.

This work is licensed under a Creative Commons Attribution-Share Alike 4.0 International License.