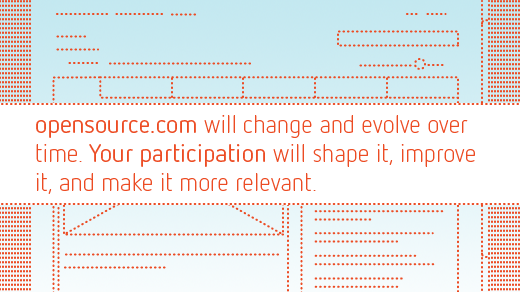 Starting today, you'll see a few changes around opensource.com. We've made some updates based on community input. Thanks to those who have already taken our quick, six-question survey. Your feedback is very useful--keep it coming.
The most important change to the site was to our main RSS feed, https://opensource.com/feed. Starting today, this feed will be updated with each new article posted to the site, not just the posts appearing on the home page. It's a great way for you to keep up with the latest information from opensource.com.
In addition to the main RSS feed, we've also added a feed for the "What we're reading" list associated with each channel. If you haven't seen the reading  lists, look for them in the right column of each channel homepage. For each topic—business, education, government, law, and life--the channel moderators pick relevant items from their daily wander around the web.
One idea is to let our readers suggest items for the reading lists in the future. For now, users are able to comment on reading items already posted. Look for the comment icon in the right column reading list.
You might notice a few smaller changes, including:
We added a link to our Flickr photo stream in the footer: http://www.flickr.com/photos/opensourceway
You'll now see your picture alongside any comments you make. If you haven't,  update your photo from the "My Account" link in the upper-right corner of each page.
The tag cloud underwent some style sheet changes.
We hope these improvements enhance your experience at opensource.com. We are always open to feedback.  Special thanks to the folks at Acquia for making these changes happen.
Read more about our open and collaborative plan for opensource.com:
Jason Hibbets is a Principal Program Manager at Red Hat with the Digital Communities team. He works with the Enable Architect, Enable Sysadmin, Enterprisers Project, and Opensource.com community publications.

This work is licensed under a Creative Commons Attribution-Share Alike 3.0 Unported License.