Celebrate the Opensource.com 7 year anniversary by voting in our community awards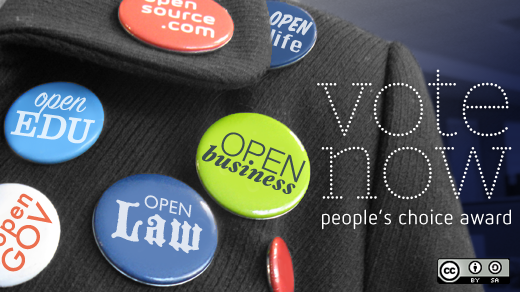 The People's Choice Award recognizes the community's favorite contributors from 2016. Voting is open from January 23 - 31.
Nominees are individuals whose 2016 contributions made a big impact. Some are now members of our Contributors Club, which recognizes writers who have made 4 or more contributions in 12 months. We excluded previous winners, Community Moderators, and Red Hat associates from this list.
Learn more about each nominee below and cast your vote by January 31.
Voting closed on Tuesday, January 31.
2017 People's Choice Award nominee
Justin W. Flory
Justin W. Flory is editor-in-chief of Fedora Magazine, the Fedora Project's Community Operations team lead, and a student at the Rochester Institute of Technology majoring in networking and systems administration. Flory penned his first Opensource.com article in May 2016 and has since covered topics ranging from RIT events to a new open source game engine.
Dr. Michael J. Garbade
Michael J. Garbade is the founder and CEO of San Francisco-based LiveEdu Inc. and is a self-taught engineer who likes Python, Django, Senecha Touch, and video streaming. In 2016, he wrote four popular Opensource.com articles highlighting PHP and JavaScript frameworks, Wordpress development best practices, and Java performance optimization tricks.
Michelle Greenlee
Michelle Greenlee is a web developer, freelance technology writer, and self-professed fan of the Oxford comma. Since her first Opensource.com contribution in May 2016, Greenlee has been a contributor to our weekly open source news roundups.
Laura Hilliger
Laura Hilliger is an open organization ambassador at Opensource.com, where she regularly shares her expertise on open leadership and open culture. Laura is currently working with Greenpeace to help the organization become more open, and she's a founding member of the We Are Open cooperative. Follow her on Twitter for regular doses of open source wisdom.
Patrick Masson
Patrick Masson is the director and general manager of the Open Source Initiative and has more than 20 years of experience in education IT. Masson has worked to promote awareness and adoption of open source software throughout his career, and his work on Opensource.com is an extension of those efforts. Since his first article in 2014, he's written on the subjects of Openwashing, the OSI, and more.
Joshua Pearce
Joshua Pearce is an associate professor of engineering at Michigan Tech and runs the University's Open Sustainability Techology group. In March 2015, he wrote about his course that lets students build their own open source 3D printers and use them to complete class projects. Since then, Pearce has shared several stories about open hardware, open source design, and more with readers.
Matt Thompson
Matt "OpenMatt" Thompson is Director of Program Management at the Mozilla Foundation. He's been writing for the Opensource.com commuity since 2010, most recently about open culture in the workplace. As part of his Work Open project, Matt interviews open-minded leaders about organizational culture and the future of work.
John Mark Walker
John Mark Walker is director of product management at Dell EMC and a regular speaker on the open source conference circuit. Since his first Opensource.com article in 2014, Walker has shared several stories of the benefits open source software and open source program offices can offer to companies.
Chad Whitacre
Chad Whitacre is the founder of Gratipay, an open organization that faciliates pay-what-you-want payments and take-what-you-want compensation systems for other open organizations. An open organization ambassador at Opensource.com, Chad pens monthly columns about open culture and open values. His article "Addressing open source's free rider problem" was the most-read open organization article on Opensource.com in 2016.
Jason Hibbets is a Community Director at Red Hat with the Digital Communities team. He works with the Enable Architect, Enable Sysadmin, Enterprisers Project, and Opensource.com community publications.
Contributors

This work is licensed under a Creative Commons Attribution-Share Alike 4.0 International License.