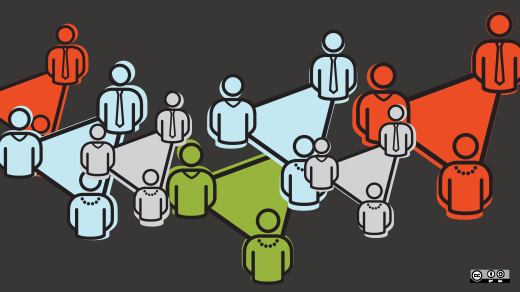 The role of community managers continues to evolve. I started to realize this after attending my first Community Leadership Summit earlier this year. My biggest take-away from it? Community management is an investment and its value is increasing. Heads up to employers: buy, buy, buy, and then invest some more.
"Every year, the art and science of community management is becoming more predictable," said Jono Bacon, the Community Leadership Summit 2013 lead organizer. But, despite becoming more predictable, it's still rapidly evolving. The myriad of collaborative tools and ways to communicate, such as social media, can complicate community management. The lines between personal and business continue to blur, particularly on social media. While I use tools like Twitter to share work-related content and engage with our community, I also use it to share personal interests. I'm a big fan of social media accounts for individuals being a reflection of the person; they should help build their personal brand. To reduce the blurriness, identify where you want to draw the line with your community and enforce it in every way.
This year on Opensource.com, we interviewed several open source experts who have tremendous community management talent and experience: Greg DeKoenigsberg from Eucalyptus, John Mertic from SugarCRM, and Dave Stokes from MySQL. We also shared a post from Ellen McDermott, Director of Operations at OpenPlans, on content management tools for boards of directors within communities. All community managers can draw inspiration and value from their experiences.
As a community manager myself, I reflected on what I learned this year at Opensource.com, particularly as we launched, evolved, and expanded our Community Moderator program. Through the challenges and successes of each initiative I've been a part of this year and each community I've worked with, I derived five best practices for community managers.
5 best practices for community managers
Empower your top contributors—If you don't have a way to identify your top contributors, you should. Earlier this year, Opensource.com awarded some of our top contributors (which we'll do again in January 2014) and then we built a Community Moderator program. We started with four volunteers and doubled that number by the end of the year. We've learned a lot and recently revised the program. Along the way, we embraced ideas from our moderators and worked to amplify their open source expertise and voice in the community. We learned that by empowering them, the community became stronger. We have a mailing list just for our moderators and several shared documents that allow them to communicate and share knowledge alongside our team but outside of our administrative time constraints. Providing freedom along with setting expectations and being transparent can lead to an empowerment effect, taking your community to the next level.
Understand the talents and motivations of participants—I borrowed this tip from Greg DeKoenigsberg and modified it a bit, as is the open source way. GDK said, "For open source leaders, the ability to understand the motivations of project participants is especially important." I agree. Another aspect of understanding motivations is to understand their talents. Over time, we learned more about our volunteers and began revising our Community Moderator program. We added specialties to what their responsibilities could be, such as community nurturing role for those who are not as much writers, but who are well-connected, excel on social media, and can help us gather open source stories to broaden our reach. We often say here in our community that you don't need to be a coder to contribute to open source. Well, you don't need to be an exceptional writer to contribute in a meaningful way to Opensource.com. Another key here is the ability to adapt. We gathered feedback on these revisions from our moderators and continue to make tweaks as we go. We are able to identify the talents of new and potential moderators and incorporate them into our program.
Avoid burnout—You've got to learn how to turn it off, unplug, and get offline. You can't be on all the time, and your community doesn't expect you to be. Sure, certain times of the year will be busier than others, or you might have a late night catching up on email, but be sure to add some limits for yourself and set expectations for your community. One rule I try to follow is: No laptop weekends. I rarely crack my laptop open after leaving work on Friday. If I log into work over the weekend, it's usually just to quickly check on a project. Plus, I make ample time for rest and to reset.
Provide value to your employer and your community—John Mertic with SugarCRM told us to "carefully manage your ROI (Return on Investment)." While there are many aspects of community management, determining what is valuable for community managers to work on is key. For example, I spend a fair amount of time determining who to invite to our Community Moderator program. The time I spent on that is sure to pay dividends in the future. Identifying the right people, who share similar values and passion for our community, adds more energy to our program. Additionally, we've found that helping our contributors improve their stories, articles, and writing is a valuable service. We provide a professional level of editorial services and promote the work of our moderators through social media, our weekly newsletter, and other online syndication strategies.
Meeting in person creates more than community—We invited our community moderators to Raleigh, NC this September for a strategy session. Beyond all the amazing brainpower we had in one room, it was great to meet everyone in person. It was the first time many of us had met in real life. The personal stories, the shared experiences, and the ideation led to more than just getting to know each other. As a community manager, I got more insights from our community members during our strategy session than I had from anything else in several months. Our moderators were able to understand more about the team, our processes, how we operate, and our goals. The only thing I would change? I might have had the in-person meeting sooner. But getting together can be hard, especially when you're bringing together people from across the country (or globe). Thankfully, we've had some recent success using Google Hangout for "face time," and while video conferencing isn't a great replacement for in-person meetings, technology like this does provide a decent alternative when you can't get together in real life.
Bringing it all together
Empowering your community, understanding their talents, and avoiding burnout are important lessons for community managers. To ensure both your employer and your community are getting value from the relationship, two-way goal setting and constant evaluation of identifying the return on investment is critical. Set your benchmarks and measure them. If you need to pivot, be transparent with your community and employer on why you're doing it and what the future expectation is. Finally, nothing trumps interacting with your community members face-to-face. So much of what we do as community managers are simple, necessary single-touch interactions. But, as many of you know all too well, every interaction is a gift.
Jason Hibbets is a Community Director at Red Hat with the Digital Communities team. He works with the Enable Architect, Enable Sysadmin, Enterprisers Project, and Opensource.com community publications.

This work is licensed under a Creative Commons Attribution-Share Alike 3.0 Unported License.