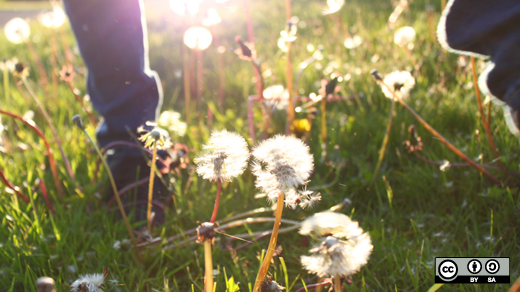 Three years ago today we flipped the switch on at opensource.com. Technically, we removed the htaccess file to allow anyone to access the site. Since that point, we've been steadily providing stories that highlight how open source is having a positive impact on the world and building a community around that mission.
During the time around our anniversary, we celebrate our community. And we have a few things in the works that you'll hear about soon. Until then, you can participate and help out by:
Going back in time
I've gone back and read the inspiring words from Red Hat CEO Jim Whitehurst at our one-year milestone.
This community has helped plant the seeds, yet there is much left to do. The door is open for the open source way to bring success to non-technology companies, as well as to schools, universities, governments—to the world. I eagerly await the day the open source way becomes the rule rather than the exception. Our hope will be to provide a place where we can shine a light on the progress along the way.
We've continued to shine that light and we have found some amazing stories. The open source community is passionate about changing the world.
I think it's always fun to look back at what we've accomplished and the progress we've made.
In 2011, we launched a "points and badge system" to highlight the activity from our community on the site. Members who are logged in can earn points for voting, commenting, rating content, and getting articles published.
Also in 2011, we deployed a resource section that includes events, projects, and applications. We have been adding to that over the course of 2012. The Opensource.com team has been working on new additions, including eBooks, and a "What is open source?" page.
In 2012, we continued to celebrate our community with renewed emphasis on our People's Choice Award and our Moderator's Choice Award.
Just some stats
And over the last three years, we have shared many great open source stories and gathered an impressive following. We've published 1,754 articles and generated 4.27 million page views. On social media, we have more than 9,600 Twitter followers and 5,000 Facebook fans. We're starting to grow our Google+ community and Linked-In professionals group.
I also took a look at our most popular content. These are the top three articles on the site since we launched.
Total victory for open source software in a patent lawsuit, by Rob Tiller—53,000 page views
Five open source alternatives to the iPad, by Ruth Suehle—37,000 page views
Raspberry Pi, Allwinner, and CuBox in the Linux hardware race to tiniest and cheapest, by Ruth Suehle—31,000 page views
Thank you
Finally, I'd just like to say thank you. Thanks to the opensource.com community of readers, writers, commenters, and sharers who have offered their time, suggestions, ideas, and tweets. You are the reason for our success as an open source community. Let's keep finding and sharing these great stories and show the world why open source is a better way.
Jason Hibbets is a Community Director at Red Hat with the Digital Communities team. He works with the Enable Architect, Enable Sysadmin, Enterprisers Project, and Opensource.com community publications.

This work is licensed under a Creative Commons Attribution-Share Alike 3.0 Unported License.