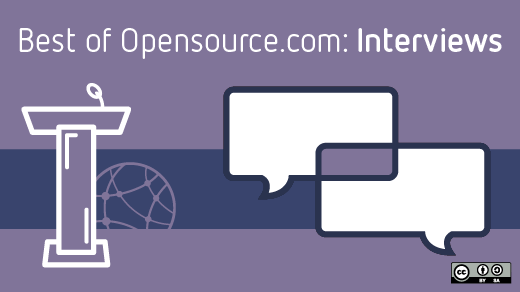 Many many interviews were conducted this year by writers and the staff of Opensource.com. Our goal when asking luminaries in the field of open source questions about their businesses, their projects, and their lives was to shine a light on how people all over the world are using open source software, hardware, and other solutions to make things better. Read more about our 10 most-read interviews on Opensource.com in 2015.
10 most-read interviews on Opensource.com in 2015
This interview highlights the exciting personal journey of Patricia Torvalds, an 18-year-old open source enthusiast who is helping bridge the gender gap in tech at her high school. Patricia shares with Opensource.com's Community Manager Rikki Endsley how she is already programming a lot even in her freshman year of college at Duke University's Pratt School of Engineering. "After college, I hope to work for a company that supports or creates technology for social good, or start my own company," says Patricia. She also recommends that open source communities do the work to educate their community members about safe spaces for women and minorites.
This year Red Hat awarded the first Women in Open Source Award to two women who have made significant contributions to open source technologies and communities. From 10 finalists around the world, Sarah Sharp was chosen to win the Open Source Community Award. She was awarded on stage at Red Hat Summit in June.
In this candid interview, Rikki Endsley asks Sarah questions about Sarah's life as a software developer who has been keenly involved with the Linux kernel development since 2006. Sarah tells us she is most proud of two things: "The first was when the USB 3.0 host controller driver I wrote got merged into the Linux kernel, making Linux the first operating system with USB 3.0 support. My second proudest moment is the very first round when the Linux kernel participated in the Outreach Program for Women (now called Outreachy)." Sarah has a deep-rooted belief in the importance of helping women and minorities get more involved in open source by encouraging them and giving them a chance to speak at conferences.
Stephen O'Connor is a fifth grade public school teacher at Wells Central School who presented on implementing the open source learning platform Moodle in a classroom and licensing content (the differences between Copyright and Creative Commons licenses) at the New York State Association for Computers and Technology in Education Conference in 2007. In this interview with Don Watkins, it is revealed that Stephen inspired Don to get Moodle into his own classroom.
A speaker at POSSCON in 2015, Netflix's Semmy Purewal, a JavaScript veteran, shares with Nitish Tiwari how the open source tool Browserify is used for building JavaScript processes at Netflix. He also shares insights into the Netflix engineering team who are working on gaming, smart TVs, and set-top boxes. Semmy suggests students interested in programming study computer science in college, participate in bootcamps, or learn more online, like on his O'Reilly blog.
The second award for the Red Hat Women in Open Source Awards, the Academic Award, went to Kesha Shah. In this interview with Jen Wike Huger, Content Manager for Opensource.com, Kesha shares her first encounter with open source: a two-day KDE meetup where she contributed to a dot article. With great encouragement from the community, she later applied for Google Summer of Code (GsoC) where she contributed to BRLCAD and STEPcode in code-refactoring, bug reporting, and building tutorials for beginners. Kesha tells Jen that her biggest open source achievement has been mentoring to over 20 beginners in open source through mentoring programs like GCI, SoK, and Learn IT girls. She also feels that awards and recognitions like them are a great way to inspire new contributors to contribute to open source.
In a very special interview with the Free Software Foundation's (FSF) executive director John Sullivan, interviewer Don Watkins helps unravel new arenas of the FSF's mission and larger work as it turns 30. John started at FSF back in 2003 with documentation, merchandising, and fundraising and invites others to volunteer with the FSF in various ways like documentation, translation, coding, design, conference organizing, and advocacy writing. As the FSF turns 30, John tells us the organization still faces issues getting the message out to the masses about the philosophy of software freedom. He shares how fully free, secure, stack hardware solutions like Libreboot and Coreboot could be used instead of relying on proprietary chips.
As part of our ApacheCon North America series, Rikki Endsley got the chance to ask Avi Cavale, CEO of Shippable, a containerized continuous integration (CI) platform, some pertinent questions about Docker. Avi explains how Docker could be tailor-made for CI processes, and how he feels that Docker-like container-based virtualization systems will one day replace virtual machines. He continues on to explain that Docker is ready for production, and his own company Shippable runs over 25,000 containers in production per week. "DevOps is 're-engineering the corporation' for IT, and Docker provides opportunities to radically accelerate this," Avi says.
Valentina Alaria, head of product and solutions marketing for PLUMgrid, a cloud networking provider, was interviewed this year by Matt Micene, a solutions architect. In this interview, Valentina sheds light on various aspects of her work in engineering, product management, and marketing at PLUMgrid, Nicira, and Cisco. She began her work quite early on using open source software solutions like OpenStack and OpenFlow, and she thinks OpenStack has grown over time into a more user-friendly and robust solution. From her experience training customers about OpenStack, SDN and VNI, Valentina sees a change in our understanding of Linux, Linux networking, and software in general.
David Lippman, a professor at Pierce College, shares his story about open and free textbooks with Nicole C. Engard, Vice President of Community Outreach at ByWater Solutions. David built IMathAS, an online open source courseware for math homework and assessment, after having been an avid programmer working on tools like jEdit for coding text editor, Inkscape and GIMP for image editing and design,and MathJax and jsxGraph libraries for coding. He recommends that educators to use various web resources like MyOpenMath.com, UMN open textbook library, OpenStax College, and Lumen Learning to help with designing new courses for students.
NGINX is a HTTP and reverse proxy server, a mail proxy server, and a generic TCP proxy server. NGINX's community leader Sarah Novotny tells interviewer Jason Hibbets, project manager for Opensource.com, about her life as an open source evangelist. Starting with Amazon, when it was just a bookstore and was using a lot of open source software, Sarah started a Blue Gecko and contributed by giving talks, running meetup groups, and co-hosting the OurSQL podcast with Sheeri Cabral. In this interview, Sarah talks more about cases of static asset serving, load balancing, and reverse proxying at NGINX.
Subhashish Panigrahi (@subhapa) is the founder of OpenSpeaks, an award winning project that helps grow open resources to digitally-document marginalized languages. He co-founded O Foundation (OFDN), a nonprofit that works towards addressing issues that lie in the cusp of people, culture, and technology with Openness in its core.

This work is licensed under a Creative Commons Attribution-Share Alike 4.0 International License.