We're not trying to start a fight, but we'd still like to know: What's your favorite open source text editor?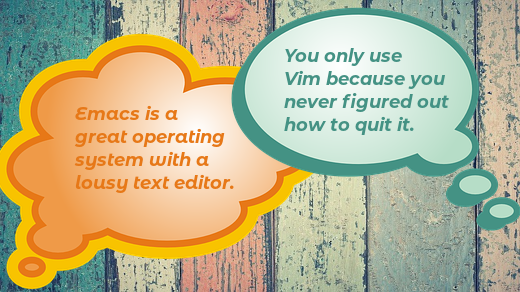 Some topics are just bound to bring about a roaring argument spirited intellectual discussion. At the dinner table, it might be religion or politics. But among open source users, aside from asking about preferred Linux distributions, the next most rabblerousing stimulating question is likely around what text editor you prefer.
Not everyone spends much time at the terminal. But for those who do, it's hard not to have developed a fondness for one editor or the other. And once you've mastered the modes and keystrokes you need, it's tempting to forgo a graphical text editor entirely, even when working from inside a graphical environment. A mastery of a favorite text manipulation tool is hard to beat when it comes to a way to bolster productivity.
When we asked a couple of years ago, Vim was the clear winner. But was this a trend? Is Emacs sliding out of favor as new users pick an editor found on nearly every machine? Or is it still gaining converts as time goes on?
Opensource.com publishes stories about creating, adopting, and sharing open source solutions. Follow us on Twitter @opensourceway.

This work is licensed under a Creative Commons Attribution-Share Alike 4.0 International License.