Explore the world of open source alternatives to Gmail as you discover several options for free webmail clients to manage your inbox.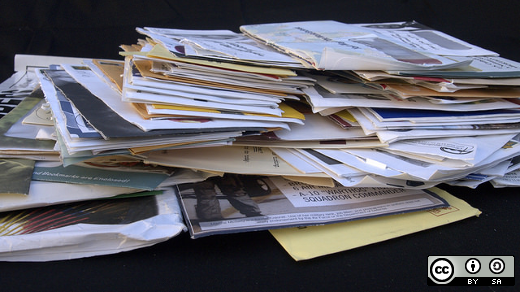 Gmail has enjoyed phenomenal success, and regardless of which study you choose to look at for exact numbers, there's no doubt that Gmail is towards the top of the pack when it comes to market share. For certain circles, Gmail has become synonymous with email, or at least with webmail. Many appreciate its clean interface and the simple ability to access their inbox from anywhere.
But Gmail is far from the only name in the game when it comes to web-based email clients. In fact, there are a number of open source alternatives available for those who want more freedom, and occasionally, a completely different approach to managing their email without relying on a desktop client. You'll still need an email server to use with these clients. If you don't already have a favorite, look for an upcoming article with some options to consider.
Let's take a look at just a few of the free, open source webmail clients out there available for you to choose from.
Nextcloud
Nextcloud is often thought of as file syncronization software (like Dropbox) but it's a lot more than that. By default, it's a sort of virtual drive in the cloud. Significantly, "the cloud" in this context can be your own server. In addition to being an interface to your online storage, it has a rich plugin system so you can run web apps for everything from chat to mail.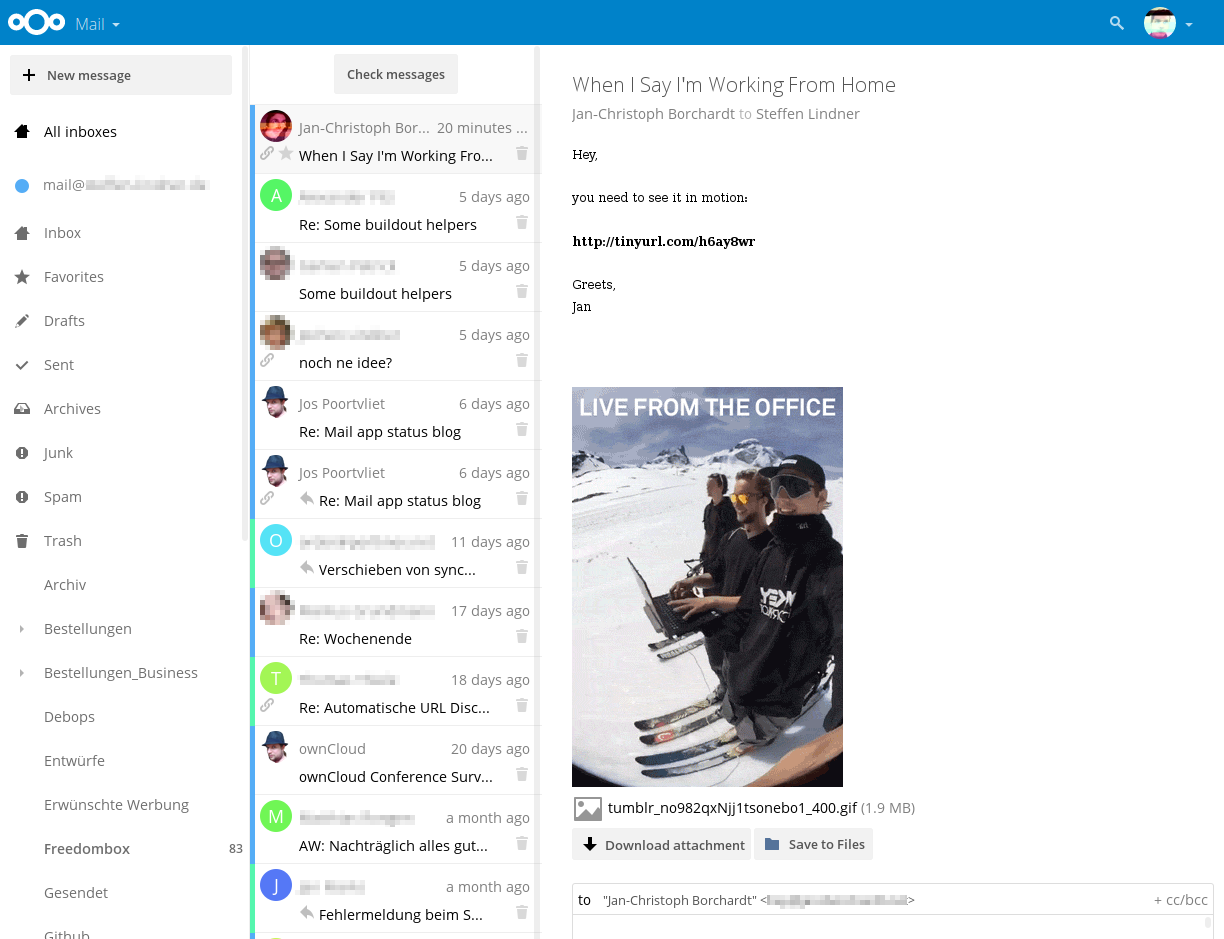 The mail plugin doesn't provide a mail server. It's just a webmail client, but it connects to a variety of mail systems. If you run Nextcloud on a server you have sudo or root access to, it's possible to setup Postfix or a similar mail server, and use the Nextcloud mail app as the front end. Best of all, Nextcloud devs have refrained from reinventing the wheel, and use libraries from the popular Horde mail client.
Horde
More than just a mail client, Horde is full-fledged enterprise-ready groupware. The Horde suite is browser based, and includes web apps for reading, sending and organizing email, managing and sharing calendars, contacts, tasks, and notes. In addition, the Horde project provides a PHP framework with libraries and apps for building out a customized working environment.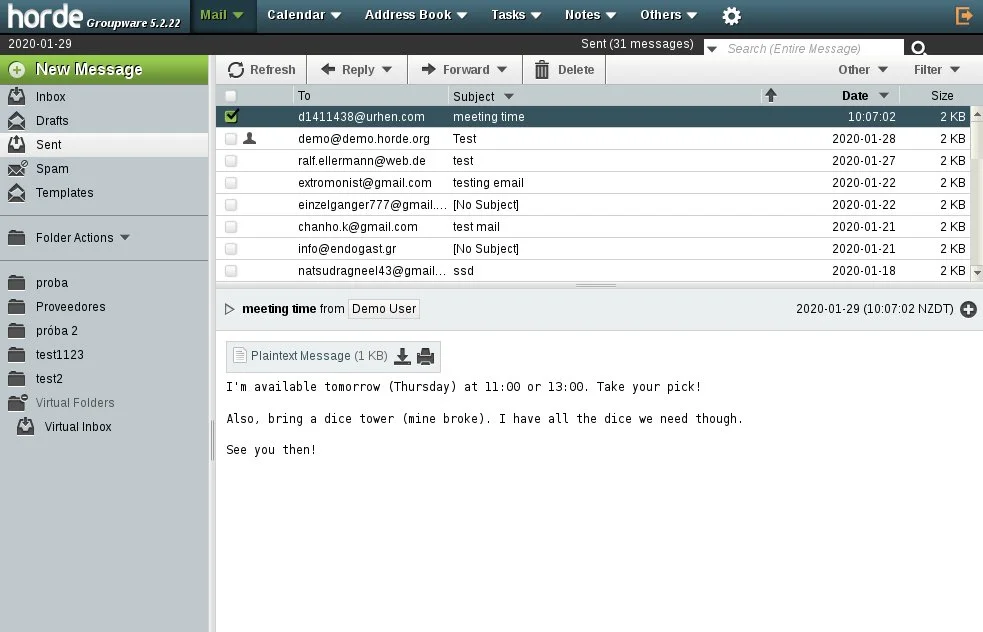 Like the Nextcloud mail app, Horde doesn't provide a server, so you'll still need a mail host, or you can run your own. However, Horde offers a robust experience (you can demo it for yourself on their site) for managing your online life, and its UI is excellent on the desktop and mobile.
Roundcube
Roundcube is a modern webmail client that installs easily on a standard LAMP (Linux, Apache, MySQL, PHP) stack. It features a drag-and-drop interface that generally feels modern and fast, and comes with a slew of features: canned responses, spell checking, translation into over 70 languages, a templating system, tight address book integration, and many more. It also features a pluggable API for creating extensions.
Roundcube is available as open source under the GPLv3.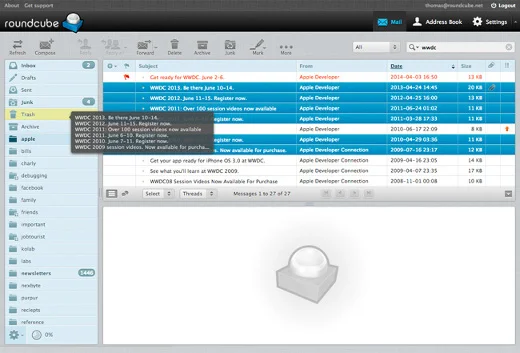 Roundcube screenshot courtesy of the project's website.
Zimbra
The next client on the list is Zimbra, which I have used extensively for work. Zimbra includes both a webmail client and an email server, so if you're looking for an all-in-one solution, it may be a good choice.
Zimbra is a well-maintained project that has been hosted at a number of different corporate entities through the years, and was acquired by Synacore in 2016. It features most of the things you've come to expect in a modern webmail client, from webmail to folders to contact lists to a number of pluggable extensions, and generally works very well. I have to admit that I'm most familiar with an older version of Zimbra, which felt at times slow and clunky, especially on mobile, but it appears that more recent versions have overcome these issues and provide a snappy, clean interface regardless of the device you are using. A desktop client is also available for those who prefer a more native experience. For more on Zimbra, see this article from Zimbra's Olivier Thierry, who shares a good deal more about Zimbra's role in the open source community.
Zimbra's web client is licensed under a Common Public Attribution License, and the server code is available under GPLv2. S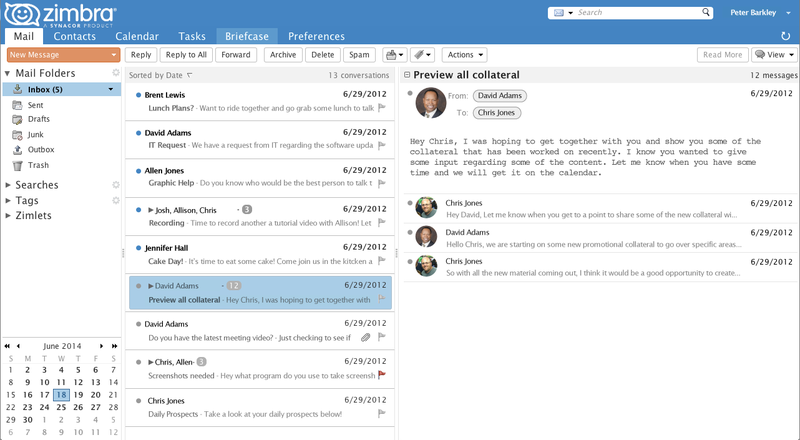 Zimbra screenshot courtesy Wikicommons, licensed CC-BY-SA.
Rainloop
Next up is Rainloop. Rainloop is a very modern entry into the webmail arena, and its interface is definitely closer to what you might expect if you're used to Gmail or another commercial email client. It comes with most features you've come to expect, including email address autocompletion, drag-and-drop and keyboard interfaces, filtering support, and many others, and it can easily be extended with additional plugins. It integrates with other online accounts like Facebook, Twitter, Google, and Dropbox for a more connected experience, and it also renders HTML emails very well compared to some other clients I've used, which can struggle with complex markup.
It's easy to install, and you can try Rainloop in an online demo to decide if it's a good fit for you.
Rainloop is primarily written in PHP, and the community edition is licensed under the AGPL. You can also check out the source code on GitHub.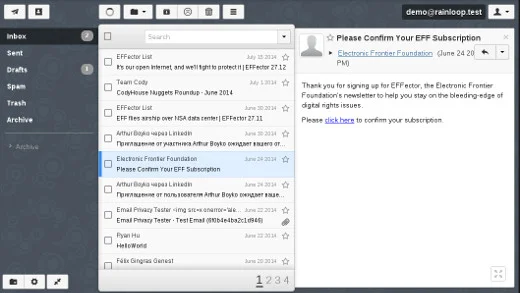 Rainloop screenshot by author.
More options
This is by no means a comprehensive list. What's your favorite open source webmail client?
---
Editor's note: This article was originally published in 2015, and has been updated to reflect changes in available software options.
Are you interested in reading more articles like this? Sign up for our weekly email newsletter.
Former Red Hatter. Now a consultant and aspiring entrepreneur. Map nerd, maker, and enthusiastic installer of open source desktop and self-hosted software.
Contributors

This work is licensed under a Creative Commons Attribution-Share Alike 4.0 International License.