A look back on July's top articles
Top 10 and editor's picks: July review
Get the newsletter
Join the 85,000 open source advocates who receive our giveaway alerts and article roundups.
We published 92 articles in July, including two series: Open Source for System Administrators and Texas Linux Fest. We welcomed 15 new authors, and our community moderators contributed 24 articles (26% of our total content).
We also introduced two new columns last month. Community moderator Don Watkins started a new column on Opening Up Education, and James Falkner introduced a new Community Metrics Playbook column.
Our team thanks the 1,200+ community members who took our annual editorial survey last month. Reader feedback helps us set the direction for Opensource.com, and the survey comments warmed our community-loving hearts. Here are a few of our many favorites:
"Your articles are very informative and easy to understand—perfect to forward it to executive officers making a case for open source. Thanks for that."
"I really like Opensource.com for all sorts of reasons, including offering a platform for community writing and leveraging open source with open tutorials. I think it offers a great balance on the overview vs. in-depth perspective. And it's great fun to read the ideas of so many competent contributors."
"Your resources are great, especially for beginners. I like the work to move open source ideas to practical fields beyond software."
"The Opensource.com editorial team is one of the best teams I have come across. They helped me in writing my open source story in an enthusiastic way."
"Good job with the newsletter. I generally follow links in your weekly email and research topics on my own further after getting an awareness from you."
July highlights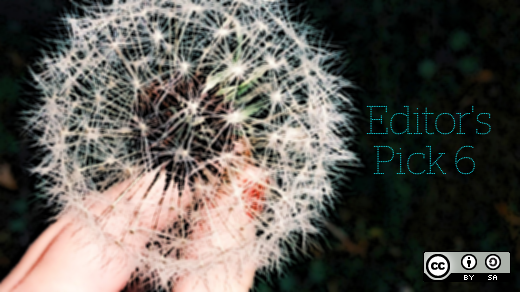 Editor's Pick 6
Here are six awesome articles from July:
Top 10 articles published in July
Would you like to see your name in the virtual pages of Opensource.com? Send us your story ideas. Also find out what's coming up in our Opensource.com August preview.