Opensource.com 2015 Holiday Gift Guide
Here it is—the annual Opensource.com holiday gift guide. Our collection of gifts is sure to get kids, adults, and hobbyists geared up and ready for hours of fun coding and creating. We've got 3D printers, Arduinos, Raspberry Pis, gadgets, robotics, and more!
First, for the book nerds out there, if these titles sound interesting to you—The Book of R, The Art of LEGO Scale Modeling, or The Official ScratchJr Book—when you purchase a book from No Starch Press, use the code ISUPPORTEFF at checkout to get 30% off and donate it to the Electronic Frontier Foundation (EFF). Explore more titles at No Starch Press.
And don't forget, if you don't have an open source enthusiast in your life you can introduce them to open source with an open source-related gift from this year's guide (below), or you can donate to an open source project in their name (or yours). Many open source projects gladly accept donations, and every bit counts.
Now, check out the 14 gifts we handpicked for the Opensource.com 2015 Holiday Gift Guide and share your favorites on your wish list!
---
Lulzbot Mini 3D printer
The Lulzbot Mini 3D printer is the ultimate gift for makers. The Mini can print creations of up to 152mm x 152mm x 158mm in size, and it ships with a one-year warranty and a year of technical support. As a part of its committment to open source and open hardware, Lulzbot maker Aleph Objects freely licenses its products' designs, specifications, and documentation.
Available to order from the Lulzbot.com store for $1,350 (US).
---
OpenROV kit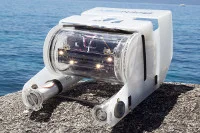 Quadcopters were so last year. If you're interested in amateur robotics, the next frontier might just be exploring the depths of the ocean (or maybe just that pond behind your house). Originally developed to explore for legendary hidden gold (no, really), the OpenROV (remotely operated vehicle) is a small submarine that allows operators to explore the world under water with a camera and whatever assembly of instruments they wish to attach. While a kit may be a bit on the expensive side, this fully-open vehicle is only a fraction of the cost of its proprietary counterparts.
Available to order from the OpenROV store starting at $899.00 (US).
---
Arduino Starter Kit
Get started with Arduino with a ginormous kit of electronics and a 170 page book of projects! This kit includes components to make 15 projects, like a spaceship, a keyboard, and color mixing lamp. Arduino is an open source project, and you can find a summary of the contributions made to it on .
Available to order from the Arduino Store USA for $99.00 (US).
---
CanaKit Raspberry Pi 2 Ultimate Starter Kit
It's never too late to get started tinkering with Raspberry Pi. This starter kit from Canakit includes a Raspberry Pi 2 and lots of fun extras, including:
8GB Micro SD card
Wi-Fi adapter
5 ft. Micro USB cable
A Raspberry Pi case
6.5 ft. HDMI cable
LEDs, switches, and more
Available to order from Amazon for $84.99 (US)
Kits for $69.99 and $47.99 are also available.
---
iNecklace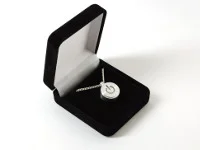 If jewelry is your classic fallback gift, there's an open source option for you. The iNecklace is a CNC machined necklace pendanant which contains a tiny circuit board, battery, and a glowing LED light, paired with a sterling silver chain and shipped in a black velveteen box, perfect for gifting. But it's not just a pretty necklace; the source code, circuit board plans, as well as the CAD diagram of the necklace itself, are all available on GitHub for you to inspect and modify.
Available to order from Adafruit for $75.00 (US).
---
Strata 7440
The Strata 7440 has a new, sleek design and is the perfect vehicle for Linux to power your projects and passions. Just choose the Linux distribution you'd like it to ship with from the dropdown menu on the order page, and you're off to the races. If this gift is for yourself, gather your favorite stickers for decorating. If it's for someone else, consider sending them a couple of stickers to get them started.
A few of the long list of awesome features for the Strata 7440 are:
4th Generation Intel Core Processor
Bright, anti-glare 15.6" LED backlit display @ 1366x768 pixels
Weight: 5.95 lbs.
Available to order from Zareason for $724.00 (US).
---
Cooking for Geeks, Second Edition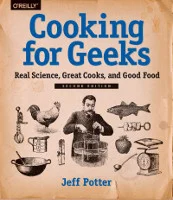 Recipes may be the original open source software. Long before the days when copyright even existed, recipes were passed from generation to generation, gaining little tweaks as they went and creating the enormous variety we now find in regional cuisines. Cooking for Geeks takes the standard recipe book a step further, and helps teach you why food is made how it is: the chemistry behind everything from the baking to the transformations which occur in proteins as meat cooks. Once you understand the why—why this temperature, why that combination—you'll be empowered to build and remix your own recipes in ways you never could have before, by understanding the science behind how we cook.
Available to order from Amazon for $23.71 (US).
---
Angular Clock kit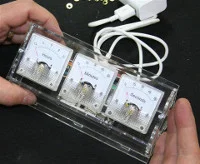 A fun kit that you can put together without soldering in about 45 minutes, the Angular Clock features three clock faces with a voltmeter-style dial. But being completely open source, you can modify it to your heart's content, whether your modification is as simple as adding a new face, or attaching an Arduino to use it to monitor time as it ticks by on another planet. The Angular Clock kit would be a fantastic project for parents to introduce their children to the world of making.
Available to order from Maker Shed for $59.99 (US).
---
Raspberry Pi Sense HAT add-on board
Need something for the Raspberry Pi lover in your life? Why not buy the add-on board that's going to space with astronaut Tim Peake? The board features a joystick, a simple LED matrix, and sensors for measuring orientation, temperature, pressure, and more.
Available to order from the Raspberry Pi Swag Store for £23.00 (UK), Adafruit for $39.95 (US), and other retailers.
---
Ciclop 3D-Scanner
Ciclop is a 3D rotational laser triangulation scanner used to transfer the dimensions of a physical object to a digital format. The Horus interface is the brain behind the scanner, used to calibrate the scanner, adjust the camera exposure, and view the point clouds generated. Both the scanner and the software are released under CC-BY SA and GPL license. The kit includes all the necessary pieces and a step-by-step assembly guide, enabling you to set it up in less than an hour.
This scanner is part of Technological Heritage of Humanity, and all information on the mechanical design, the electronics and the software have been made freely available to the community.
Available to order from LulzBot.com for $400.00 (US) and from LEDs & Chips for £251.00 (UK).
---
SparkFun Simon Says
Simon Says get your soldering tools ready and get your beginners excited for some electronic fun. If you are ready to solder a 28-pin microprocessor, LEDs, battery clips, and more then this is the gift for you.
You'll gain first-hand experience in through-hole soldering and learn about the tools, techniques, and terminology required to populate your own printed circuit board prototype. If you're ready to solder and then play, Simon Says to check out this gift.
Available to order from SparkFun for $24.95 (US).
Image is CC BY-NC-SA 3.0 attributions SparkFun Simon Says.
---
OSVR hacker dev kit
The OSVR (open source virtual reality) project made huge waves when it was announced at CES earlier this year. Create and explore your own virtual reality worlds with this headmounted display from gaming hardware giant Razer.
Available to order from Razer for $299.99 (US).
---
X-Carve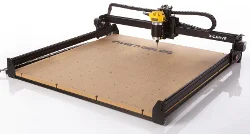 The CNC router is perhaps one of the most versatile tools in the maker's tool chest, allowing nearly any material to be cut with tight precision. With thousands of project available on the Internet from guitars to furniture to customizing nearly any object you can imagine, a CNC router makes the process of turning ideas into objects simple. The X-Carve is a fully open source machine, from software to hardware, so you can adapt it most any need.
Available to order from Inventables starting at $934.00 (US).
---
Hummingbird Robotics Duo Base Kit
This kit has everything you need to build a robot, just add your own crafty materials to make it your own and get to programming! Your robot can be programmed with Scratch, Java , and more. Plus, maker of this kit, Bird Brain Technologies, has free software, tutorials, and recipes for you to use. Just visit their site after your robot arrives. Kit includes: one Hummingbird Duo controller, power supply, USB cable, terminal tool, snap-in stand-offs, single-color LEDs, tri-color LEDs, two hobby servos and one servo extension cable, one light sensor, and one temperature sensor.
Bonus: Read our interview earlier this year with Tom Lauders, founder of Bird Brain Technologies about why he started the company and how open source makes a difference.
Available to order from Bird Brain Technologies for $159.00 (US).
---
Opensource.com publishes stories about creating, adopting, and sharing open source solutions. Follow us on Twitter @opensourceway.

This work is licensed under a Creative Commons Attribution-Share Alike 4.0 International License.