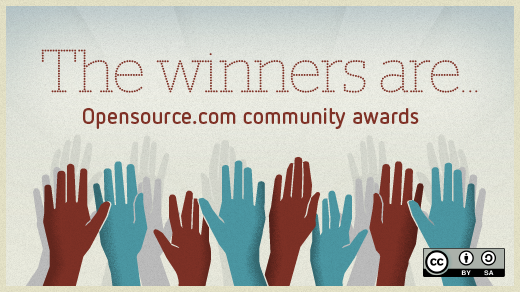 Every year, Opensource.com awards people from our community who have excelled in contributing and sharing stories about open source. These stories reflect how we use open source in our everyday lives as well as how it helps us build a better future with open technology.
What we do on Opensource.com would not be possible without our community. While we celebrate our 7-year anniversary, its only appropriate to recognize some of our community members. To say thank you, we present to you the winners in the following categories for the 2017 Opensource.com Community Awards.
Click on each winners' name to see a collection of their articles.
2017 People's Choice Award
Recognizes the community's favorite authors from 2016. Voted on by the community.
Justin W. Flory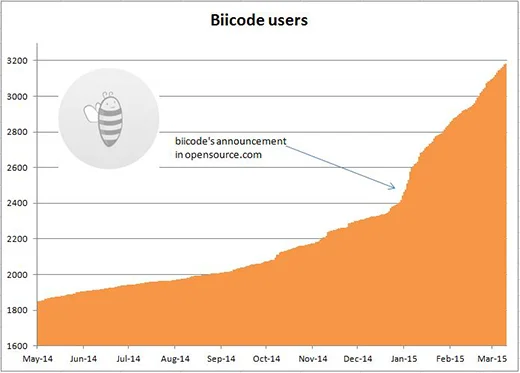 Justin W. Flory is editor-in-chief of Fedora Magazine, the Fedora Project's Community Operations team lead, and a student at the Rochester Institute of Technology majoring in networking and systems administration. Flory penned his first Opensource.com article in May 2016 and has since covered topics ranging from RIT events to a new open source game engine.
Laura Hilliger

Laura Hilliger is an open organization ambassador at Opensource.com, where she regularly shares her expertise on open leadership and open culture. Laura is currently working with Greenpeace to help the organization become more open, and she's a founding member of the We Are Open cooperative. Follow her on Twitter for a regular dose of open source wisdom.
Joshua Pearce

Joshua Pearce is an associate professor of engineering at Michigan Tech and runs the University's Open Sustainability Techology group. In March 2015, he wrote about his course that lets students build their own open source 3D printers and use them to complete class projects. Since then, Pearce has shared several stories about open hardware, open source design, and more with readers.
Matt Thompson
Matt "OpenMatt" Thompson is Director of Program Management at the Mozilla Foundation. He's been writing for the Opensource.com commuity since 2010, most recently about open culture in the workplace. As part of his Work Open project, Matt interviews open-minded leaders about organizational culture and the future of work.
2017 Moderator's Choice Award
Recognizes a Community Moderator who has made a big impact among their peers. Voted on by the Community Moderators.
Ben Cotton

Ben is a meteorologist by training and a high-performance computing engineer by trade. Ben works as a technical evangelist at Cycle Computing. He is a Fedora user and contributor, co-founded a local open source meetup group, and is a member of the Open Source Initiative and a supporter of Software Freedom Conservancy. Find him on Twitter (@FunnelFiasco) or at FunnelFiasco.com.
2017 Reader's Choice Awards
Recognizes the community's favorite articles from 2016. Voted on by the community.
2017 Best Interview Awards
Recognizes the community's favorite interviews from 2016. Voted on by the community.
2017 Emerging Contributor Awards
Recognizes new contributors to the Opensource.com community. Selected by the Opensource.com team.
Lauri Apple
Lauri is a driving force behind fashion firm Zalando's recent push to become an open organization. A former journalist, Lauri shares compelling and valuable dispatches from her work with open source developers. She's on Twitter, too, where she's a tireless advocate for open principles and tools.
Justin Dorfman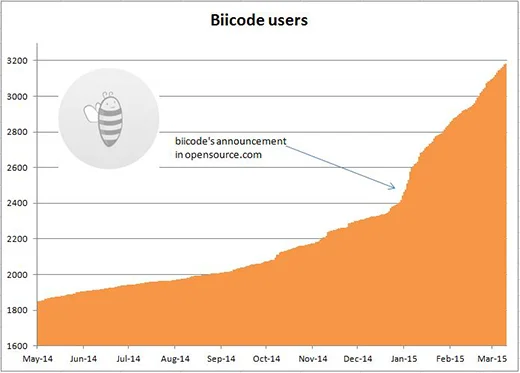 Justin is director of developer relations for Sticker Mule and founder of BootstrapCDN. In his first Opensource.com article, Dorfman told the story of how 30,000 people helped pick the new Bash logo.
Jen Kelchner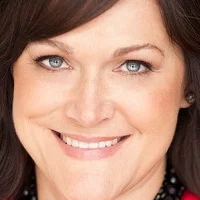 Jen is a leadership and management consultant who helps teams realize the power of openness. Kelchner's monthly Opensource.com column, "In the Open", chronicles her adventures evangelizing more transparent and collaborative ways to work. She recently launched LDR21, a consulting agency with open principles at its core.
Jeff Macharyas

Jeff is a longtime art director, graphic designer, and open source software advocate. In his first Opensource.com article, Macharyas made the case for tools like GIMP and Inkscape as viable alternatives for graphic design professionals. Since then, he's written on the subjects of art and design, publishing tools, and even Star Trek.
Gregg Pittman
Greg is a member of the Scribus team and a retired neurologist. Pittman has a longstanding interest in computers and programming that began with Fortran IV in the 1960s and was rekindled with the rise of Linux and open source software. Pittman has authored seven Opensource.com articles on topics ranging from documentation to Python scripting in Scribus.
Jim Salter
Jim is a South Carolina-based systems administrator who's been working with open source software since the late 1990s. Though best known for his article on why he built his own homebrew Linux router, Salter has penned four other articles for Opensource.com.
Chris Short

Chris is an IT professional, FOSS advocate, and US Air Force veteran with a special interest in DevOps. Short's first Opensource.com article, Improve your DevOps security game with Ansible Vault, was published in late December.
Josh Simmons
Josh is a short stack web developer, Open Source Initiative board member, and a member of Google's open source outreach team. His first Opensource.com article highlighted seven of Google's biggest open source releases of 2016.
Lindsey Thorne
Lindsey is an HR and recruiting veteran who focuses on jobs in open source software and data science. Thorne shared two career-focused articles with the Opensource.com community in 2016: Top 3 questions jobs seekers ask in open source and Open source from a recruiter's perspective.
Jason Hibbets is a Community Director at Red Hat with the Digital Communities team. He works with the Enable Architect, Enable Sysadmin, Enterprisers Project, and Opensource.com community publications.
Contributors

This work is licensed under a Creative Commons Attribution-Share Alike 4.0 International License.