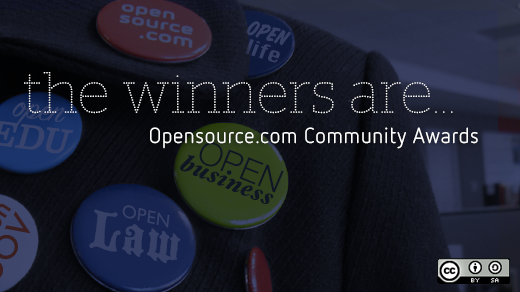 Every year, Opensource.com awards people from our community who have excelled in contributing and sharing stories about open source. These stories are about open source as we use it in our everyday lives as well as how it helps to build a better world and future in technology. This year, we present to you the 2015 Opensource.com Community Awards in the following categories.
Click on each winners' name to see a collection of their articles on Opensource.com.
---
People's Choice Awards
Recognizes the community's favorite contributors from 2014. Voted on by the community.


A Government Evangelist at GitHub where he leads the efforts to encourage adoption of open source philosophies.
A programmer, organizer, writer, and teacher. Works at OpenHatch, volunteers with the Open Science Collaborative, organizes Open Government Boston.

A Solutions Architect and lead engineer for DLT Solutions.
An educator and open source activist, based in Bangalore, India.
---
Reader's Choice Awards
Recognizes the community's favorite articles from 2014. Voted on by the community.
Why is Docker the new craze in virtualization and cloud computing? | by Jodi Biddle
Four Linux distros for kids | by Aseem Sharma
---
Best Interview Awards
Recognizes the community's favorite interviews from 2014. Voted on by the community.
Diversity is a crucial component of meritocracy
An interview with DeLisa Alexander of Red Hat | by Jodi Biddle
What it takes to make a cloud deployment successful
An interview with Mark Voelker of Cisco | by Jason Baker
Open source moves from accepted to expected
An interview with Dwight Merriman of MongoDB | by Robin Muilwijk
---
Moderator's Choice Award
Recognizes a member who has made a big difference in the community. Voted on by the Community Moderators.


A tech writer and coach, based in New Zealand.
---
Conversation Starter Awards
Recognizes those who have excelled in starting conversations about stories published on Opensource.com. Selected by the Opensource.com team.

David Both | A Linux and Open Source advocate who resides in Raleigh, North Carolina.
Chris Long | A Senior Systems Engineer at Red Hat working in Brisbane, Australia.

Patrick Masson | The General Manager for the Open Source Initiative.

Phil Shapiro | An educator and librarian at a public library in the Washington, DC area.

Don Watkins | IT consultant, educator, entrepreneur, and open source advocate.
---
Emerging Contributor Awards
(new award)
Recognizes new contributors to the Opensource.com community. Selected by the Opensource.com team. 

A Senior Corporate Recruiter working for Red Hat in Brno, Czech Republic.
A Drupal + eCommerce specialist with a music background.
A Systems Administrator at HP working on the OpenStack Infrastructure team.

Head of open source operations at the Open Source Group at Samsung and runs Open Source Today.
A full-stack engineer contributing to a variety of open source projects.
---
Thank you to everyone who voted in this year's 2015 Opensource.com Community Awards and congratulations to all of the winners! See winners from 2014.

Opensource.com publishes stories about creating, adopting, and sharing open source solutions. Follow us on Twitter @opensourceway.

This work is licensed under a Creative Commons Attribution-Share Alike 4.0 International License.