Thank you to all of the authors who contributed articles to Opensource.com in 2021!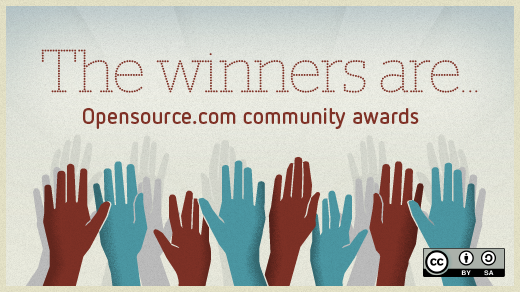 Many journeys into open source start with community interactions. Code is an important contribution, but so is sharing knowledge. The community knowledge base is often a person's first exposure to a project.
I love working with the community of authors here at Opensource.com. I have the privilege of visiting with the members in our Correspondents program weekly and am really looking forward to building relationships with authors and readers alike.
Each and every January, we like to commend and celebrate the community of authors at Opensource.com. So, (drumroll please), I'm pleased to present the People's Choice Award winners for 2022! 
The methodology
Our community votes with its attention and engagement.
This year, the editorial team analyzed the top 12 categories by readership to find the most notable non-staff authors for each category. 
Select the link next to each author's image to discover more about them and find a list of their contributions.
2022 People's Choice Award for Linux
2022 People's Choice Award for Programming
2022 People's Choice Award for DevOps
2022 People's Choice Award for Python
Miguel Brito


Tian Gao


Darin London


Lauren Maffeo


Girish Managoli


Ben Nuttall


Aayush Sharma


Moshe Zadka
2022 People's Choice Award for Kubernetes
Savita Ashture


Noaa Barki


Mike Calizo


Jessica Cherry


Chris Collins


Yasu Katsuno


Aayush Sharma


Saumya Singh


Nived V
2022 People's Choice Award for JavaScript
Chris Hermansen


Mandy Kendall


Jaivardhan Kumar


Nimisha Mukherjee


Ramakrishna Pattnaik


Ajay Pratap 


Bryant Son
2022 People's Choice Award for Raspberry Pi
AJ Canlas 


Chris Collins


Peter Czanik


Patrick Easters


Alan Formy-Duval


Lukas Janėnas


Darin London


Javier Pena 


Joe Truncale


Don Watkins
2022 People's Choice Award for Ansible
2022 People's Choice Award for Career
2022 People's Choice Award for Business
2022 People's Choice Award for Git
Olaf Alders


Rajeev Bera


Manaswini Das


Ramakrishna Pattnaik
Thank you to all Opensource.com contributors!
Thank you to all of the readers who made comments, liked posts, and helped us curate our awards. 
Our authors donate their time and knowledge to the open source community as a whole. For more authors and great articles, check out a few of our other favorite categories:
AmyJune is an experienced community manager, mentor, public speaker, and inclusion advocate. While her roots are in Drupal, she also contributes regularly to the Linux and Accessibility communities.

This work is licensed under a Creative Commons Attribution-Share Alike 4.0 International License.